Outspoken Activist and Writer Leaves Behind a Legacy of Advocacy…..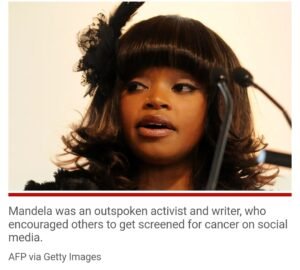 Zoleka Mandela, the granddaughter of the late South African leader Nelson Mandela, has tragically passed away at the age of 43 after an 11-year battle with cancer that had spread throughout her body. Her family announced her passing, noting that she was surrounded by loved ones in her final moments.
Early Life and Activism:
Zoleka Mandela was born on April 9, 1980, and her life was profoundly impacted by the release of her grandfather, Nelson Mandela, from prison in 1990. Until that moment, she had known him only as an incarcerated man, and his release brought excitement into her young life. Nelson Mandela would go on to serve as South Africa's first president from 1994 to 1999.
It was after her grandfather's passing in 2013 that Zoleka found her calling as an activist. She bravely shared her personal struggles with drug addiction, depression, and childhood sexual abuse. Her advocacy efforts gained momentum after her 13-year-old daughter tragically died in a car crash in 2010 while she was in the hospital herself, recovering from a previous suicide attempt.
The Battle with Cancer:
Zoleka's health battles continued when she was diagnosed with breast cancer at the age of 32. She underwent a double mastectomy, but the cancer returned in 2016. Despite her own challenges, she used social media to document her journey, spreading awareness and encouraging others to get screened. In 2022, she revealed that the cancer had spread to her liver.
A Voice for Women's Health:
Zoleka was recognized for her advocacy work and was named one of BBC's 100 Women, a list honoring influential and inspirational women from around the world. She emphasized the importance of women speaking out, getting tested, and taking charge of their health.
Lasting Impact: Zoleka Mandela's candid and honest posts on social media earned her a dedicated following. She used her platform to shed light on the harsh realities of her condition and the emotional turmoil it brought. Her passing is a tremendous loss, as she followed in her grandfather's footsteps as a beacon of hope and change.
Condolences and Remembrance:
The Nelson Mandela Foundation expressed heartfelt condolences to the Mandela family, describing Zoleka as a beloved grandchild of Winnie and Madiba, and a friend to the Foundation. She is survived by four children and leaves behind a legacy of courage and advocacy.
Zoleka Mandela's journey was marked by personal struggles, but her unwavering dedication to important causes, her openness about her own challenges, and her commitment to making a difference will continue to inspire many.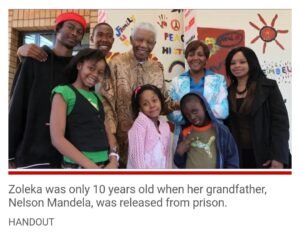 Credit: New York Post