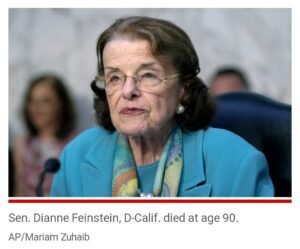 Today, we mourn the passing of a true pioneer in American politics. Senator Dianne Feinstein, a towering figure in California and the nation, has left an indelible mark on history. At the age of 90, her remarkable journey came to an end, but her legacy lives on.
Dianne Feinstein's career was defined by a series of groundbreaking firsts. She shattered glass ceilings, becoming the first woman to preside over the San Francisco Board of Supervisors and subsequently the first woman to hold the office of San Francisco Mayor. But her ambition didn't stop there; she went on to become one of the first women elected to the U.S. Senate from the Golden State.
Reflecting on her accomplishments, former House Speaker Nancy Pelosi noted, "Dianne Feinstein, right from the start, was an icon for women in politics." Senate Minority Leader Chuck Schumer echoed this sentiment, describing her as a legend, both in California and the Senate, a leader on countless issues.
Born in San Francisco in 1933, Feinstein's diverse background – raised by a Russian Orthodox mother and Jewish father – shaped her perspective and values. She was a product of her city, attending Temple Emanuel Synagogue and graduating from San Francisco's Convent of the Sacred Heart. Her early years were marked by involvement in various extracurricular activities, showcasing her diverse talents.
Feinstein continued her education at Stanford University, earning her degree in 1955. Her personal life was equally dynamic, as she was married three times, with one daughter, Katherine, from her first marriage.
Her entry into politics came in 1960 when then-Governor Pat Brown appointed her to the California Women's Parole Board. However, it was in 1969, at the age of 35, that she secured her first elected position, a seat on the San Francisco Board of Supervisors.
In a twist of fate, the tragic assassination of San Francisco Mayor George Moscone in 1978 thrust Feinstein into the mayoral role. She would go on to win her first full term as mayor in 1979, embarking on a transformative journey to reshape the city.
Feinstein's tenure was marked by resilience. She faced a recall attempt, primarily driven by her proposal to ban handguns in San Francisco, a bold move at the time. Yet, she also oversaw the city's skyline transformation, a raucous 1984 Democratic National Convention, and the preservation of San Francisco's beloved cable car system.
But her legacy extended beyond infrastructure. Feinstein rose to prominence during the AIDS crisis, taking courageous steps to protect lives. She ordered the closure of the city's bathhouses, even as the gay community held significant political sway.
Under her leadership, San Francisco General Hospital became a global standard for AIDS healthcare. In 1990, Feinstein sought higher office, running for California governor. Though she lost, she made history as the first woman in the state to win a major party's gubernatorial nomination. Then, in 1992, during the "Year of the Woman," she was elected to the U.S. Senate alongside Congresswoman Barbara Boxer.
In Congress, Feinstein chaired the Senate Rules Committee and the Senate Intelligence Committee, breaking more barriers as the first woman to do so. Her accomplishments included authoring the 1994 Federal Assault Weapons Ban and exposing CIA detainment and interrogation practices.
Her legislative legacy is extensive, from federal coordination of Amber Alerts to the protection of California's desert and national parks. She reauthorized the Violence Against Women Act and advocated for marriage equality through the Respect for Marriage Act.
Despite her many achievements, Feinstein faced criticism, particularly from her own party on occasions. But she remained a trailblazer, breaking barriers in the male-dominated world of politics.
In her later years, concerns about her fitness to serve arose. Hospitalized in February 2023 for shingles at age 89, she had announced her retirement from the Senate when her term ended in 2024.
Senate Majority Leader Chuck Schumer recounted how Feinstein's colleagues gave her a standing ovation upon hearing the news, a testament to the deep respect and love for this remarkable leader and legend.
Dianne Feinstein's legacy is one of groundbreaking accomplishments, resilience in the face of adversity, and a commitment to serving the people of California and the United States. She will be remembered as an icon who inspired generations of women in politics and as a leader who left an enduring mark on our nation's history.
Credit: ABC7