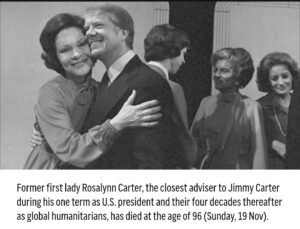 Former First Lady Rosalynn Carter, a key advisor to Jimmy Carter during his U.S. presidency and their subsequent four decades as global humanitarians, passed away at 96. The Carter Center confirmed her death, citing her struggle with dementia and declining health. Jimmy Carter expressed deep sorrow, calling her his equal partner and a constant source of love and support. Jill Biden, acknowledging Rosalynn's contributions to mental health, caregiving, and women's rights, shared the news at a Naval Air Station event in Norfolk, Virginia.
The Carters, married for over 77 years, had a unique partnership, with Rosalynn actively participating in Cabinet meetings and advocating for various causes. Known for her political acumen, she was dubbed the "Steel Magnolia" for her strong will and compassionate nature. Throughout their lives, mental health and elderly issues remained Rosalynn's policy focus. After leaving the White House, the couple founded The Carter Center, dedicated to humanitarian efforts globally.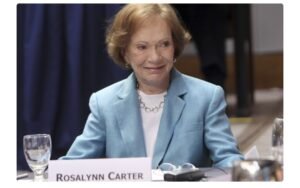 Rosalynn Carter's impact extended beyond politics, as she co-authored books on caregiving and mental illness, and engaged in hands-on humanitarian missions. Even in their later years, the Carters remained active, building houses with Habitat for Humanity and supporting public health initiatives. Despite challenges, including Jimmy Carter's health scares, Rosalynn stood by his side, showcasing their enduring partnership.
Eleanor Rosalynn Smith, born in Plains, Georgia, in 1927, faced early hardships, yet excelled academically. Her marriage to Jimmy Carter, formed in 1946, endured Navy life, political endeavors, and a return to Plains. Lillian Carter, Jimmy's mother, recognized Rosalynn's influence, stating she could achieve anything with Jimmy's ear. Rosalynn Carter's legacy as a trailblazing first lady, advocate, and partner to Jimmy Carter will be remembered as a remarkable chapter in American history.
Credit: AP