Rupert Murdoch, the influential 92-year-old Australian media tycoon, is relinquishing his leadership positions at both Fox's parent company and News Corp. effective November. His son, Lachlan Murdoch, will take over as News Corp. chairman and continue as Fox Corp.'s CEO.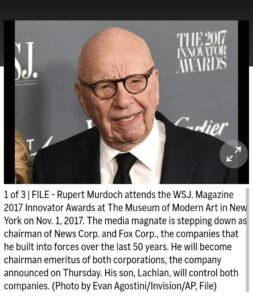 Lachlan Murdoch expressed gratitude for his father's future role as chairman emeritus, expecting continued valuable counsel.
Rupert Murdoch's impact on American media is undeniable, with the creation of Fox News and the Fox broadcast network challenging major networks. He also owns The Wall Street Journal and the New York Post.
Fox News Channel, under his stewardship since 1996, significantly influenced American politics and television, though it faced recent challenges, including a substantial defamation settlement and the departure of popular host Tucker Carlson.
In a letter to employees, Murdoch assured ongoing involvement in Fox's ideas and community, without specifying reasons for his announcement.
Notably, this development coincides with the release of Michael Wolff's book, "The End of Fox News," exploring the network's future post-Murdoch.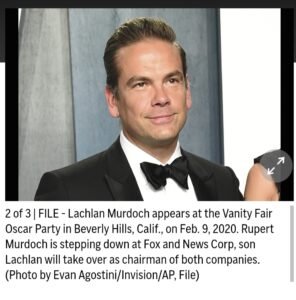 Rupert Murdoch's journey from a single newspaper in Adelaide, Australia, to a multi-billionaire empire builder is a remarkable story, with the Murdoch family's net worth estimated at approximately $19 billion in 2020.
Politicians in the United States and Britain have long sought Murdoch's approval, making him a significant figure in politics and media.
Credit: AP