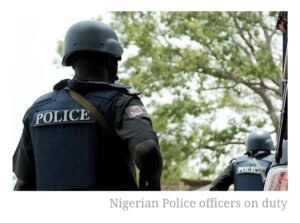 A police officer, Fauzziyah Isiak, has been detained at the Ikeja police command in Lagos for "absconding" from duty, the police have said.
The police spokesperson, Benjamin Hundeyin's explanation came as the female corporal accused the police of keeping her in detention for resigning.
Back story
Ms Isiak, who worked in the police administrative department had on Wednesday narrated how she was detained for resigning from the police force.
She explained that she has been trying to resign from the Force since 2022 but her letters were not approved.
"I never saw this coming. I have never thought I'll be put in detention without interrogation," she said.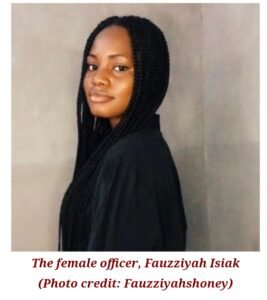 "All I did was try to resign. I have been trying to resign from the police since last year but my letters were not approved."
Recounting how she was detained, the officer said that she was called by the deputy commissioner to "show up" on Wednesday for an interview.
She had thought that the call was to "finally" approve her resignation but was "shocked" to hear that she will be "detained to be tried and dismissed."
"Due to the shock, I couldn't say anything as the officer led me away," she narrated.
"Later, I heard that I should have begged and cried but my lack of reaction worsened the matter. I cried a river after it all dawned on me. I have not taken my clothes and shoes off since yesterday. I can't even change my sanitary pad.
"My migraine is throbbing at full speed and my head is about to explode from exhaustion."
Police
However, "setting the record straight," the police said the detained officer did not follow the laid down procedure.
"It is one thing to turn in your resignation. It is another thing for the application to be processed, upon which you receive your discharge certificate," Mr Hundeyin said.
"Till you get the discharge certificate, you remain a serving member of the Force, bound by all extant rules and regulation of service.
"Absence from duty for twenty-one days without leave or permission automatically results in your being declared a deserter. Every serving member knows this."
The spokesperson further said Ms Isiak, who serves in the office of the Imam of the command, "without leave, permission or discharge from service, absconded from duty for over a month, in flagrant disregard for the conditions of service she willingly signed to."
Starting on Thursday, the officer will face her orderly room trial, "for this offence against discipline," the police said.
"Secondly, she has maliciously brought the name of the Force into disrepute by distorting/misrepresenting facts – a discreditable conduct that amounts to another disciplinary offence," he tweeted.
"Nevertheless, she would have an opportunity to explain herself at the trial, after which a decision will be made." (Premium Times)