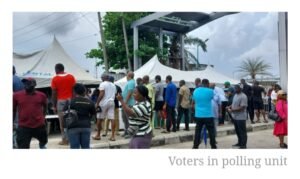 Amidst widespread reports of violence and voter apathy across Lagos State in the ongoing governorship and state house of assembly elections, there have been pockets of complaints about officials of the Independent National Electoral Commission (INEC).
At Eti-Osa Local Government Area, Polling Unit 020 in Agungi in the Lekki area of the state, the election did not start early prompting voters in the area who had gathered to exercise their franchise in the area to complain about the development.
INEC fixed the time for the commencement of the process at 8.30 p.m.
As of 1.30 p.m., which is barely one hour before the end of the official window for the voting exercise, it had not begun.
Some of the voters at the affected polling unit told Arise TV they were unhappy with the way they had been systematically disenfranchised.
One of them, Dorcas Ajileye, said they were surprised to be told that the designated INEC officials for their polling unit 'missed their way'.
"Some people have been here since 7.am, I was here some minutes after eight to collect my number which was 147 but up until now (1.20pm) no INEC official, we were told they missed their way and went somewhere else at a few minutes past nine and up until now, they are yet to show up.
Premium Times