In a recent development, former U.S. Congressman Steve Buyer from Indiana has been sentenced to 22 months in prison for engaging in illegal stock trades based on insider information. The sentencing took place on Tuesday, marking a significant legal consequence for the former House Republican who served from 1993 to 2011.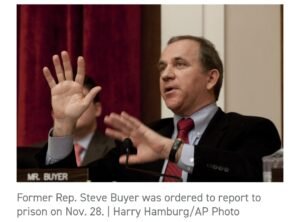 Buyer, a lawyer and Persian Gulf War veteran, held prominent positions during his time in Congress, including chairing the House Veterans' Affairs committee and serving as a House prosecutor during President Bill Clinton's 1998 impeachment trial.
His conviction was linked to insider trading activities surrounding the $26.5 billion merger of T-Mobile and Sprint, announced in April 2018. Additionally, he was found guilty of illegal trades involving the management consulting company Navigant, which coincided with his client Guidehouse's publicly disclosed acquisition of Navigant.
The court ordered Buyer to forfeit $354,027, the amount representing his illegal gains, and imposed a $10,000 fine as part of his sentence. While defense lawyers advocated for home confinement and community service, prosecutors pressed for a three-year prison term.
Judge Richard M. Berman, who presided over the case, emphasized that Buyer's conviction was based on compelling evidence, stating that it "screams guilty." The judge also pointed out that Buyer had misled the court during his trial regarding when he had knowledge of the mergers he profited from.
Furthermore, Berman rejected previous claims that Buyer had been unjustly prosecuted or that he could not receive a fair trial in Manhattan. He noted that jurors were drawn not only from New York City but also from six suburban counties outside the city.
Buyer has been ordered to report to prison on November 28. Before his sentencing, he shared sentiments about the culture of trust in Indiana, where individuals can leave money unattended without fear of theft, highlighting the "honor system" that he claims to have lived by.
This case serves as a reminder of the legal consequences that can befall individuals who engage in insider trading, regardless of their prior political positions or affiliations.
[Source: Politico]