California Fast Food Workers to Receive $20 Minimum Wage Starting April 1, 2024…..
In a significant development for low-wage workers, California Governor Gavin Newsom has inked a new law that will ensure fast food employees earn no less than $20 per hour, set to take effect from April 1 next year.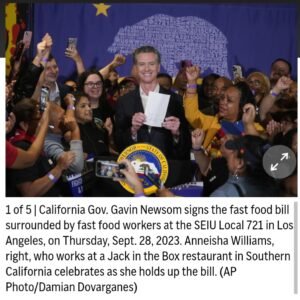 Once implemented, this legislation will position California among the states with the highest minimum wage rates in the nation, as per data gathered by the University of California-Berkeley Center for Labor Research and Education. It's worth noting that California's existing minimum wage for all other workers is already set at $15.50 per hour, ranking among the highest in the United States.
The signing of this bill was met with jubilation, with fast food workers and labor leaders joining Governor Newsom for a celebratory event in Los Angeles. Governor Newsom himself emphasized the significance of this move, stating, "This is a big deal."
This decision reflects the growing influence of labor unions in California, which have actively campaigned for improved wages and working conditions for fast food workers. It also brings an end, at least for now, to a battle between labor unions and business groups regarding industry regulation. In exchange for higher pay, labor unions have agreed not to pursue legal actions making fast food corporations liable for the actions of their independent franchise operators in California.
This compromise could have potentially disrupted the industry's fundamental business model. Simultaneously, the industry has consented to withdraw a referendum related to worker wages from the 2024 ballot.
Anneisha Williams, an employee at a Jack in the Box restaurant in Southern California, expressed the significance of this change, saying, "This is for my ancestors. This is for all the farm workers, all the cotton-pickers. This is for them. We ride on their shoulders."
Currently, California's fast food workers earn an average of $16.60 per hour, slightly over $34,000 annually, according to the U.S. Bureau of Labor Statistics. This falls below the California Poverty Measure for a family of four, which factors in housing costs and publicly-funded benefits.
The $20 minimum wage is just the starting point. The law establishes a fast food council with the authority to incrementally increase this wage each year until 2029 by either 3.5% or the change in averages for the U.S. Consumer Price Index for urban wage earners and clerical workers, whichever is lower.
It's important to note that the raise applies to workers at restaurants with a minimum of 60 nationwide locations, with exceptions for establishments that both produce and sell their own bread, such as Panera Bread.
This development now shifts the focus to another group of low-wage California workers awaiting their own minimum wage increase. Lawmakers recently passed a separate bill aiming to gradually raise the minimum wage for health care workers to $25 per hour over the next decade. However, unlike the fast food wage increase, it remains uncertain whether Governor Newsom will sign this increase for health care workers. This issue is complicated by the state's Medicaid program, which serves as the primary revenue source for many hospitals.
The Newsom administration estimates that the wage increase could cost the state billions of dollars in increased payments to health care providers. Supporters of the wage increase argue that it would be offset by a reduction in the number of people relying on publicly funded assistance programs, citing a study from the University of California-Berkeley Labor Center.
Credit: AP