Former President Jimmy Carter is celebrating his 99th birthday Sunday. The 39th president of the United States will be surrounded by his large extended family in their hometown of Plains, Georgia, to mark the occasion.
The former president and his wife, Rosalynn Carter, made a rare appearance last weekend at the Plains Peanut Festival. The couple was photographed and recorded riding in a black SUV through town, in a Facebook post shared by The Carter Center.
Meet Jimmy Carter's family
Jimmy and Rosalynn Carter, who have been married for 77 years, have four children: three sons — John William, James Earl III, Donnel Jeffrey — and one daughter, Amy Lynn.
The Carters are also the grandparents of 12 (one deceased) and great-grandparents to 14 children.
According to the Jimmy Carter Library.
A portrait of President Jimmy Carter and his extended family. Left to right: Judy (Mrs. Jack Carter); Jason James Carter; Jack (John William Carter); Annette (Mrs. Jeff Carter); Jeff (Donnel Jeffrey Carter); First Lady Rosalynn Carter; daughter Amy Lynn Carter; President Carter; daughter-in law Caron Griffin Carter holding James Earl Carter IV; and son Chip (James Earl Carter III).
Corbis via Getty Images
In a 2014 interview, Jimmy Carter said he liked to have his grandchildren and great-grandchildren visit the Carter family home in Plains.
"We still have the farms that we own since ancient times so we introduce them to farm life and the outdoors and take them fishing and hunting when they want to go," he said. "That's my favorite thing."
The Carters grew up together as neighbors and schoolmates in Plains and went on to become the longest-married couple in presidential history. They married on July 7, 1946.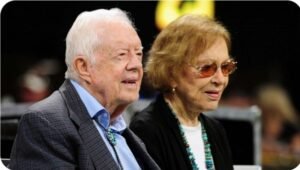 Former president Jimmy Carter and his wife Rosalynn prior to a game at Mercedes-Benz Stadium, Sept. 30, 2018 in Atlanta.
Scott Cunningham/Getty Images, FILE
Carter told ABC News in 2021 that the key to his long and happy marriage to Rosalynn, who was diagnosed with dementia earlier this year, included taking the time to both "share as much as we possibly can" but also giving each other permission to pursue separate interests.
"We've survived this long together because first of all, we give each other plenty of space to do our own thing," he said at the time.
"We're always looking to do things or find things we can do together, like fly fishing and bird watching and just going out to the pond, catch a fish," Rosalynn Carter added.
Learn more about the children who have brought so much joy to the former president throughout his life.
Democratic Presidential nominee, Jimmy Carter, and his wife, Rosalynn, are surrounded by family on the podium after Carter made his acceptance speech. Left to right: Carter's mother, Lillian; daughter, Amy; son, Jack(behind Amy); Carter and wife; son, Jeff and his wife Annette; son, Chip and his wife, Caron.
Bettmann Archive via Getty Images, FILE
Jack Carter
Jack Carter was born in Virginia in July 1947, nearly a year after his parents' marriage.
Now 76, he owns an investment company and lives in Las Vegas.
The eldest Carter son was previously a lawyer and a businessman and in 2016, followed his father into politics. He ran as a Democratic candidate for the Senate in Nevada but lost to incumbent Republican Sen. John Ensign.
U.S. Senate candidate Jack Carter is greeted by supporters as he walks into the Channel 8 studios in Las Vegas for a debate with incumbent U.S. Sen. John Ensign, Oct. 15, 2006.
John Locher/AP
He was previously married to Juliette "Judy" Langford and they share two children – son Jason James and daughter Sarah Rosemary, according to the New Georgia Encyclopedia, which is run by the University of Georgia. Jack Carter has been married to Elizabeth Brasfield since 1992.
Chip Carter
James Earl Carter III, named after his father, was born in Hawaii in April 1950.
The 73-year-old also grew up in his father's hometown of Plains but in a 2008 interview with the Richard B. Russell Library for Political Research and Studies, he said his nickname Chip was given to him while he was still in Honolulu.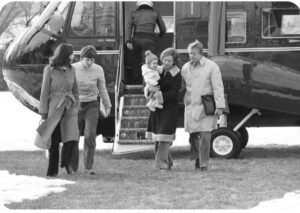 President Jimmy Carter and Mrs. Rosalynn Carter along with their son, Chip, and his wife, Caron, arrive at the White House, Jan. 15, 1978, from the presidential retreat at Camp David, Md.
Barry Thumma/AP
"'Chip' is Hawaiian for 'baby' and my blue armband when I was born had 'Chip Carter' written on it, which meant 'baby Carter' and that's how I got the name Chip," he said.
Chip Carter was married in 1973 to Caron Griffin and they had a son named James Earl Carter IV. The couple divorced in 1980. Chip Carter would later marry Ginger Hodges and they had a daughter named Margaret Alicia Carter. Today, Chip Carter is married to Becky Payne, according to the New Georgia Encyclopedia.
Jeff Carter
Donnel Jeffrey Carter is the youngest son and third child of the former president and former first lady.
Jeff Carter was born in August 1952 in Connecticut and attended Georgia Southwestern State University, where he would meet his future wife, the late Annette Davis Carter.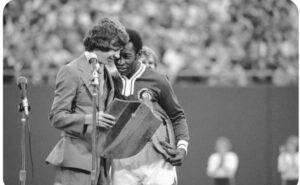 Jeff Carter, son of President Jimmy Carter, gives Pele a plaque thanking Pele for his contributions while playing for the New York Cosmos during ceremonies before Pele's last game, Oct. 1, 1977 at Giant Stadium in East Rutherford, N.J.
Red/AP
The couple married in 1975, lived at the White House, and later, had three children – sons Joshua, Jeremy and James. Jeremy Carter died in 2015 after an apparent heart attack, according to the biography "His Very Best Jimmy Carter, a Life," by Jonathan Alter.
Amy Carter
Amy Lynn Carter is the youngest of the Carter kids and was born in Plains in October 1967.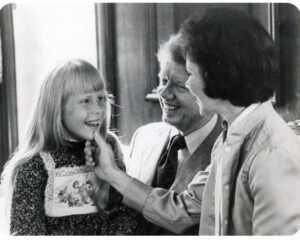 Amy Carter with her father Jimmy and mother Rosalynn Carter in a family suite at the Americana Hotel in Washington, D.C., July 14, 1976.
Newsday via Getty Images
She spent her young teenage years in the White House when her father was president between 1977 and 1981.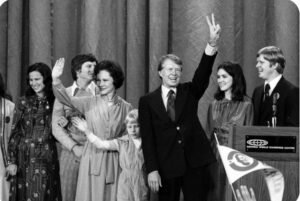 View of future First Lady Rosalynn Carter (fore left), daughter Amy, and husband, US President-Elect Jimmy Carter, as they wave from the stage at the Georgia World Congress Center where the latter had delivered his Presidential acceptance speech, Atlanta, Nov. 3, 1976. Pictured behind them are, from left, daughter-in law Judy Langford Carter and her husband, son John William Carter.
Consolidated News Pictures/Getty Images.
In 1996, Amy Carter married James Wentzel and the couple had a son, Hugo. The couple later divorced and Amy Carter remarried Jay Kelly. They welcomed another son named Errol Kelly.
Earlier this summer, Hugo Wentzel appeared on the second season of the reality competition show "Claim to Fame," which featured celebrity relatives, and revealed he was one of Carter's grandchildren.
"He's an amazing grandpa, honestly. I love him so much. I call him Papa," Wentzel said. "He led America and my family very well. I stand for everything he stands for. He believes in equality for everyone, regardless of race, class, gender, anything. He's just an amazing person. I aspire to be like him one day."
Credit: Taboola.